Mainframe & Networking Components:
HP, Compaq, Sun, Cisco
You're running an Enterprise Server and a Sophisticated Network Environment. Whenever you need to upgrade your servers, you are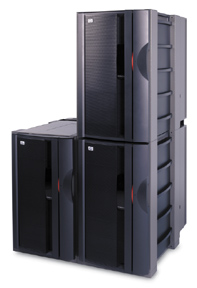 faced with problems such as:
You run critical computing environment and you need to keep additional memory, hard drives, or other server controllers in stock in case of computer failure
You need to upgrade your server but the upgrade components for the server are either discontinued or the manufacturer will make you pay huge price.
New components from the manufacturer are over-priced while the same refurbished components cost a fraction of the new ones.
You need an additional server of an older, yet discontinued model and the manufacturer wants you to buy a newer but more expensive model.
You need to add more of Cisco routers, switches, or other upgrades but you do not have the budget for expensive new networking products.
We have the solution for you:
We source and sell quality bulk or refurbished hard drives, memory modules, and server controllers for HP 9000, HP/Compaq Himalaya Non-Stop, Alpha, and ProLiant Server as well as Sun Microsystems Servers. Also, we sell refurbished Cisco routers, switches, and networking products.
The refurbished components are pre-tested and certified to work for your server. We also offer a warranty on most refurbished components.
Our prices are very competitive compared either to the new components purchased directly from manufacturer or those from other refurbished dealers.
We ship everywhere in Canada and USA.
We accept VISA and Master Card as well as purchase orders from government agencies or major corporations.
Tell us what you need: